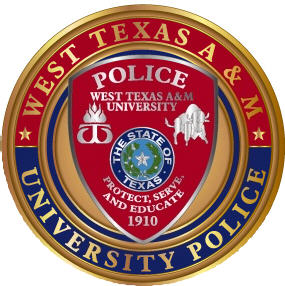 The West Texas A&M University Police Department is a full-service police department, offering many services not offered by traditional police departments such as vehicle unlocks, vehicle boosts, and escorts.  UPD strives every day to improve the quality of life of all who come to campus.  UPD is unique in many ways from other police departments. UPD strives for professionalism and courtesy and works diligently to find innovative ways of gaining compliance with local, state, and federal laws sometimes using methods other than strict enforcement. UPD stresses formal education and training of its officers and staff. The department establishes goals each year for increasing formal education hours. Hopefully you will find the following information enlightening and interesting while also gaining some useful insight into the operations of UPD itself.
Campus Access - West Texas A&M University is a public and open campus. No effort is made to restrain the general public from entering campus; however, the University Police Department does reserve the right to bar individuals who are considered a threat to the University community. WTAMU operates under a "no tolerance" level of enforcement relating to fighting, weapons, alcohol and other drugs on University property. All state and federal laws are strictly enforced.
Please take the UPD Survey 2019. We want to better serve the WTAMU community and appreciate your input.