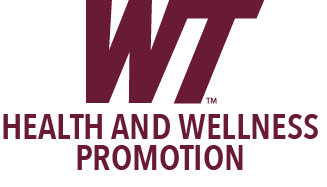 Informing students on healthy lifestyle choices and resources to make them thrive on campus
Virtual Events to look forward to!
Celebrating "YOU" Event
Jan. 19th-21th
Relationship Week
Feb. 8th-12th
Walk Across Texas Event (Check info below to register)
March 8th-April 30th
Safe Spring Break
March 8th-12th
Mindfulness & Relaxation Week
April 19th-23rd
WALK ACROSS TEXAS Registration INFO
Create or log into your account at https://howdyhealth.org/programs
- Click the WAT! Dashboard button under the adult section
- Click the 'Join a League' button
- Copy this code and paste into the League Code field: watL-210111-74258
- Complete the join a league form and submit to finalize
- You will then get a team code and the ability to add emails for your team mates
Please come by and visit us for more information on events or resources to help you thrive holistically here on campus.
Darcy Webber
Coordinator of Health and Wellness Promotion
JBK 6
(806)651-2910