Fitness
"Give about two hours every day to exercise, for health must not be sacrificed to learning. A strong body makes the mind strong." ~ Thomas Jefferson
Our Fitness program offers you the opportunity to stay fit and help relive the stress that comes with being a student. Fitness offers programs with the Shape-Up Program.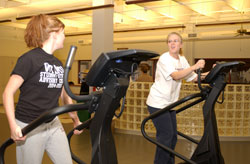 Student Health 101
As a service to our students here at WTAMU, we are providing an online subscription to Student Health 101 for students, faculty and staff members. Student Health 101 is a monthly health and wellness magazine just for WTAMU students. Each issue contains valuable information that will help students make better decisions and can help them gain a better understanding of the health and wellness challenges that face today's students.

Each month, you can download the latest issue of Student Health 101. Please take a few minutes to read the issues each month, as we believe that they can be a valuable resource for students.

Student Health 101 issue is available online at http://readsh101.com/wtamu.html.
Shape-Up
Shape-Up is a program offered through Fitness. This program offers many great opportunities to get active in aerobics, water aerobics, and yoga just to name a few. Our staff is ready to help you with all of your fitness needs to get in shape or stay in shape.
Printable schedule of classes for Spring 2018.
Schedule of Classes
SPRING 2018 Shape-Up Schedule




January 16 - May 2, 2018
Cycle Room (next to racquetball courts)

Spin Classes

VHAC Pool

Water Aerobics

7 a.m.

Senior Swim

MWF

Elosia Reyna-Brooks

12:30 p.m.

Water Aerobics

MTTh

Audrey Jones

5:30 p.m.

Water Aerobics

TTh

Pebby Comer

Mirror Room

6 p.m.

Barre

MW

Darby Reiners

6:30 p.m.
Ballroom Dance
TTh
Krystal Torres
Room 211

12:30 p.m.

Pilates

T

Trisha Brown

7 p.m.

Self-Defense for Women (6 wk course)

Th

Tammy Stamps

7 p.m.

Shoto Kan Karate

MTh

Glen Stocker
You must be a member of the VHAC in order to participate in the classes. Sorry there are no refunds.
Students - FREE!!!
WTAMU Faculty or Staff - $45 per session
Community Members- $60 per session
For more information, contact Justin Cornelsen at 806-651-2330 or come by room 124 in the Activities Center.
Classes follow the academic calendar. Class schedules are subject to change. A class may be canceled due to low enrollment or low attendance. If this occurs, you will have the option of joining another class. All participants will need to fill out the proper paperwork in order to participate in the shape up classes.
Aerobic instructors needed for all types of classes and times! Those interested please call Justin Cornelsen at 806-651-2330. Certified applicants only.
We will be adding more classes as instructors are hired so check back periodically for updates.