Student Internships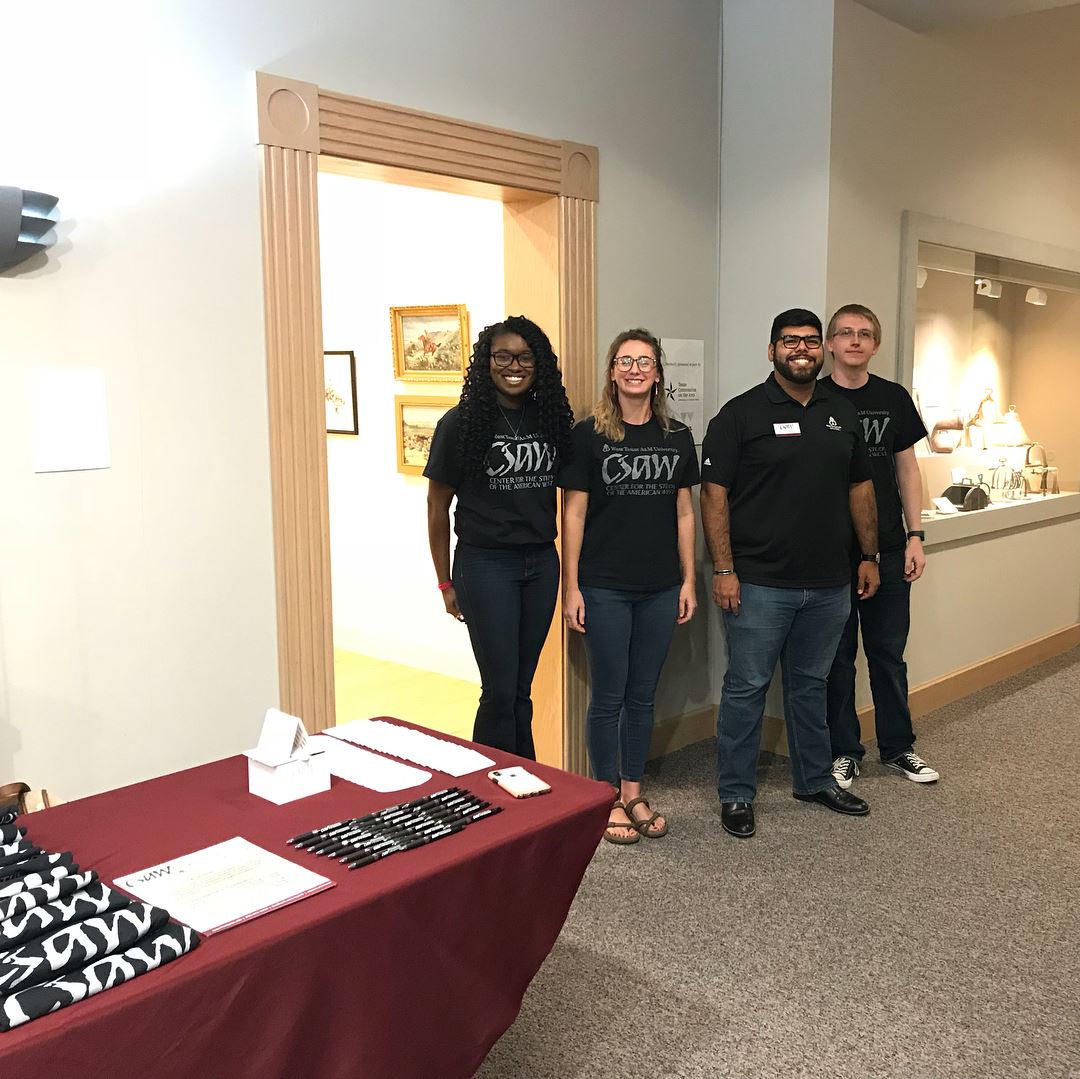 Interns play an important role in CSAW's initiatives by providing valuable work to the Center. CSAW interns are paid, so students are able to gain on-the-job experience while also having financial benefits. Students from diverse areas of study at WTAMU are exposed to the American West and to interdisciplinary studies and provide valuable feedback on many areas, not the least of which is public outreach.
In addition to receiving hourly wages, CSAW can also accommodate students who require course credit for an internship. Credit is available to students from multiple majors and disciplines.
CSAW facilitates a variety of internships to suit students from a wide range of fields and backgrounds. All internships require 10 hours of work per week and allow flexibility in scheduling around classes and other commitments. Students interested in applying for a Spring 2019 internship can apply through career services.
CSAW Student Internship
Students will work closely with CSAW staff in various areas. For full job listing and to apply, click here.
Duties include:
Promotion of CSAW events through printed and digital materials and social media
Marketing and Public Relations
Assisting directorial staff with research
Website design
Weekly meetings
General office duties
Event planning
Panhandle-Plains Historical Review Internship
Student will serve as editor to proofread content, copyedit articles, and structure layout of the Panhandle-Plains Historical Review. Experience with Adobe InDesign required. (Available each Fall)

Panhandle-Plains Historical Museum Student Internship
Students will research historical downtown Amarillo in the process of creating an exhibit at the historic Federal Building in downtown Amarillo. This position is hosted by PPHM and facilitated by CSAW.
Palo Duro Canyon Special Project
Intern will work with the Palo Duro Canyon State Park interpreter to learn about the CCC's role in many park buildings and construction projects. They will then conduct research to create materials for use at the park, such as handouts, exhibit plaques and trail guides. The intern will have the opportunity to lead groups on a CCC trail while educating them about the history of the group's work at PDC. There may be a social media component to this internship as well. See more details and apply
here
.
Past Special Projects
Wildcat Bluff Nature Center Special Project
Intern will conduct research on the Gregg-Marcy trail, part of which runs through Wildcat Bluff Nature Center's property. Student will also create materials for use at the Center, such as handouts, exhibit plaques and trail guides, and have the opportunity to lead groups on the Gregg-Marcy trail while educating them about the trail's history. This intern will also create blog posts and website material about his or her work.
---