Buff Allies Events & Training
Ongoing
Common Place: LGBTQ Support Group
Wednesdays, 4-5 p.m.
Location: Student Counseling Services, Classroom Center #116
A confidential drop-in support group for those who are navigating gender identity and/or sexuality. This group is facilitated by LGBTQ affirming and knowledgeable counselors from WTAMU Student Counseling Services (806-651-2340).

February
Safe Zone Training
February 24 (Friday), 1-5 p.m.
Location: JBK Maroon Room
Buff Allies include students, staff, and faculty who have attended the four-hour Safe Zone workshop exploring the unique needs and concerns the LGBTQIA community faces in higher education while also building their knowledge, skills, and abilities for creating a more inclusive and affirming campus for all students. Additionally, Safe Zone members display a Buff Allies placard in a visible location such as a door to an office that identifies them as a friend, supporter, and campus resource for anyone seeking information or a listening ear. This placard identifies dedicated safe spaces on campus for LGBTQIA individuals to connect with allies to the community.

During the Safe Zone training, members develop an understanding of LGBTQIA terminology and symbols, history, concepts of privilege and identity development, interact with a panel of LGBTQIA speakers, and build skills for identifying and interrupting language and behavior that may be discriminatory. Campus resources and reporting processes are also shared.
Contact Dr. Kristina Drumheller at kdrumheller@wtamu.edu or 806-651-2816 to RSVP!
Lunch 'n Learn: "Texas Bathroom Bills"
February 27 (Monday), 12:20-1:20 p.m.
Location: JBK Maroon Room
Grab your lunch and join us to learn about a different LGBTQIA topic and enrich your knowledge! A day is never wasted when you learn something new. This Lunch 'n Learn topic will feature Dr. Anand Commissiong, associate professor in the Department of

Political Science and Criminal Justice

.



March
TBD
April
TBD
May
TBD
June through August
New Student Orientation – Buff Allies Table in Legacy Hall
Buff Allies hosted a table at all six New Student Orientations last summer!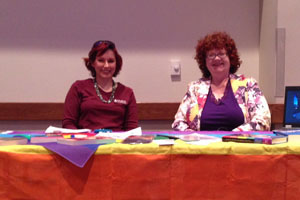 Dr. Medlock (left) and Dr. Stuntz at the Buff Allies Table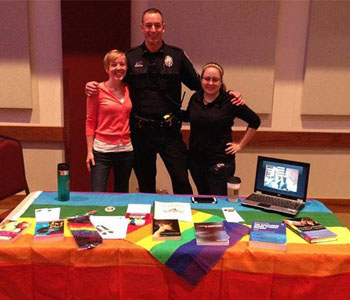 Alice MillerMacPhee (left), Sergeant Nethery (center),
Lana King at the Buff Allies Table
Other Events