Buff Allies Events & Training
Ongoing
Common Place: LGBTQ Support Group
Fridays, 12-1 p.m.
Location: Student Counseling Services, Classroom Center #116
A confidential drop-in support group for those who are navigating gender identity and/or sexuality. This group is facilitated by LGBTQ affirming and knowledgeable counselors from WTAMU Student Counseling Services (806-651-2340). This is a come-as-you-can group; you can come one week and not the next!
​Spectrum WT
Thursdays, 7 p.m.
Location: Classroom Center 335
Spectrum WT is the student-led LGBT+ organization on campus whose

purpose is to foster diversity, equality, and awareness through both education and community! Meetings and events are open to all students.

To stay updated, find Spectrum WT on social media! Facebook: Spectrum WT. Instagram: @wtamuspectrum. Twitter: @wtamuspectrum.
September
Buff Allies/Spectrum Meet & Greet
September 6 (Thursday), 12:20 - 1:20 p.m.
Location: Fine Arts Center #176
A great opportunity to meet our Buff Allies and Spectrum members! Lunch provided.
Lunch 'n Learn: "Our Time: Surviving and Thriving after Abuse" with Tammy Stamps
September 17, 12:15 - 1:15 p.m.
Location: JBK Maroon Room
Grab your lunch and join us to learn about a different LGBTQIA topic and enrich your knowledge! A day is never wasted when you learn something new.

Tammy Stamps, author of "Our Time," is a survivor of long-term abuse and has written her story in hopes of helping others who have suffered at the hands of someone else. Come and join us to hear a story told in combination with music about a life of struggle, survival, healing and thriving. Be inspired, be educated and help stop the cycle of abuse.
October - LGBTQIA History Month!
Guest Speaker: "Faith in Transition" with Kimberly Shappley
October 15 (Monday), 6:30 p.m.
Location: JBK Legacy Hall
Safe Zone Training
October 19 (Friday), 1-5 p.m.
Location: FAC 176
Buff Allies include students, staff, and faculty who have attended the four-hour Safe Zone workshop exploring the unique needs and concerns the LGBTQIA community faces in higher education while also building their knowledge, skills, and abilities for creating a more inclusive and affirming campus for all students. Additionally, Safe Zone members display a Buff Allies placard in a visible location such as a door to an office that identifies them as a friend, supporter, and campus resource for anyone seeking information or a listening ear. This placard identifies dedicated safe spaces on campus for LGBTQIA individuals to connect with allies to the community.

During the Safe Zone training, members develop an understanding of LGBTQIA terminology and symbols, history, concepts of privilege and identity development, interact with a panel of LGBTQIA speakers, and build skills for identifying and interrupting language and behavior that may be discriminatory. Campus resources and reporting processes are also shared.
Contact Dr. Kristina Drumheller at kdrumheller@wtamu.edu or 806-651-2816 to RSVP!
Guest Speaker: "Undead Shakespeare" with Stephen Guy-Bray
October 31 (Wednesday), 6 p.m.
Location: Fine Arts Complex Recital Hall
Dr. Stephen Guy-Bray is a Renaissance scholar and queer theorist; his work includes Homoerotic Space, Loving In Verse, and Against Reproduction.
There will be two other events happening around his visit. On Tuesday, Oct. 23, there will be a casual reading group at 12:15 in the EPML lounge to discuss some of Dr. Guy-Bray's work. On Oct. 31, before his main talk at 6 p.m., he will host a discussion about queer poetry at 4:30 with any interested students, faculty, and community members.
This event is open to everyone and is brought to you by the Department of English, Philosophy, and Modern Languages, Buff Allies, Spectrum WT, Sigma Tau Delta, and the High Plains Poetry Project.

November
Lunch 'n Learn: TBD
Date TBD, 12:15 - 1:15 p.m.
Location: JBK
Grab your lunch and join us to learn about a different LGBTQIA topic and enrich your knowledge! A day is never wasted when you learn something new.
June through August
New Student Orientation – Buff Allies Table in Legacy Hall
Buff Allies hosted a table at all six New Student Orientations last summer!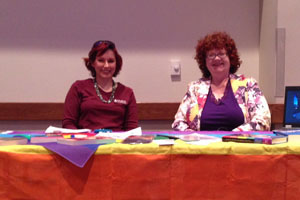 Dr. Medlock (left) and Dr. Stuntz at the Buff Allies Table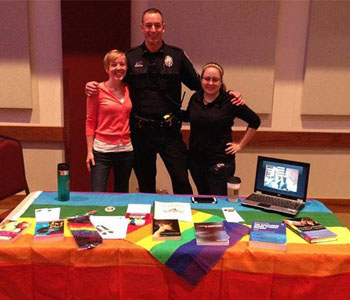 Alice MillerMacPhee (left), Sergeant Nethery (center),
Lana King at the Buff Allies Table
Other Events