Buff Allies
Training and Events

New Student Orientation
Buff Allies Table in Legacy Hall
Buff Allies hosted a table at all six New Student Orientation this summer.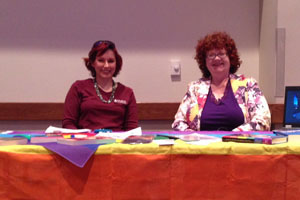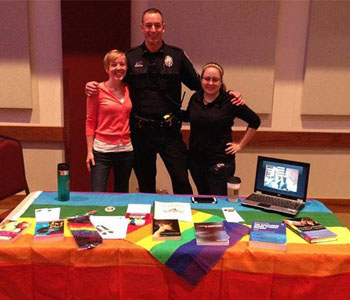 Dr. Stuntz and Dr. Medlock Alice MillerMacPhee, Zach Nethery, Lana KIng
Events
Join us for LGBTQIA Month Events
LGBTQ Voices on Campus

Monday, October 20th

12:15-1:15 pm

JBK Senate Chamber
Ever wonder about LGBTQ voices at WT? Have questions about the Buff Allies? Join us for LGBTQ Voices on Campus: A Panel Discussion. This is an opportunity to learn about experiences on campus and ask questions.
Professor Stephen Stillwell

Tuesday, October 21st

7 p.m. * FAC Recital Hall
Professor and Librarian Stephen Stillwell will present his lecture: The Gay? Proconsuls and ponder issues around the sexuality of nineteenth and twentieth century characters involved in British imperialism.
Lunch 'n Learn
Monday, November 17, 2014 -- Lunch and Learn, 12:15pm-1:15pm, JBK Room 33 (West Texas Room)
Social Events
Thursday, October 16, 2014 -- Starts at 5:30. Check Facebook for details!
Future Events
Spectrum, the LGBTQA student organization, is initiating a new tradition at graduation this year. We will be wearing a rainbow stole to honor the LGBTQ and Ally community at WT. Anyone, regardless of sexual orientation or gender identity/expression, is invited to wear a stole. Furthermore, it is very important to us that this option be open to all students, faculty, and staff regardless of organization or department. In wearing rainbow stoles we will be recognizing and affirming the presence of our LGBTQ and Ally community and honoring the invaluable contributions that they have made while at WT. To place your order, please contact Alice MillerMacPhee at akmillermacphee1@buffs.wtamu.edu. You may also send a check made payable to "Spectrum" through Campus mail to Alice in the Office of Student Affairs.
**We also have a Square card reader so Alice would be happy to come to your office and take your credit card order on the spot!