Buff Allies Events & Training
February
Lunch 'n Learn: "Compassion: Empathy in Action"
February 15 (Monday), 12:15-1:15 p.m.
Location: JBK West Texas Room
Grab your lunch and join us to learn about a different LGBTQIA topic and enrich your knowledge! A day is never wasted when you learn something new.

The word "compassion" is from the Latin "to suffer with." More than just to feel with, it is what causes you to set aside your own agenda and be with someone. Compassion is relational. The aim of this presentation is to explore the neurobiological connection of compassion and developing relationships. We will discuss how compassion can be reinforced, unlearned, and relearned through focused self-awareness in order to cultivate our better selves while curbing our more hurtful tendencies.

This Lunch 'n Learn topic will feature Dr. Lisa Davis, professor in the Department of Nursing.



March
Guest Speaker: emily danforth - Why I Wrote a Great, Big, Coming of Gay (Age) Novel and Why It Got Banned
March 7 (Monday), 7 p.m.
Location: Fine Arts Center Recital Hall
emily m. danforth's debut novel, The Miseducation Of Cameron Post (HarperCollins 2012), received starred reviews from Kirkus, Booklist, Publishers Weekly, and School Library Journal, and was praised in the LA Times, The Boston Globe, The Seattle Stranger, USA Today, Entertainment Weekly, and NPR, whose reviewer called it "a skillfully and beautifully written story that does what the best books do: It shows us ourselves in the lives of others." emily has an MFA in Fiction from the University of Montana and a Ph.D in English-Creative Writing from the University of Nebraska-Lincoln. Her short fiction has won the International Queer Writing Award from the U.K.'s Chroma Magazine, and the George Garret Award from Willow Springs. emily's nonfiction has been featured on NPR's All Things Considered and in The Huffington Post. She teaches creative writing and literature courses at Rhode Island College in Providence and is also 1/3 of the editorial/publishing staff of The Cupboard, a quarterly prose chapbook.

For more information:

www.emdanforth.com
April
TBD
May
TBD
June through August
New Student Orientation – Buff Allies Table in Legacy Hall
Buff Allies hosted a table at all six New Student Orientations last summer!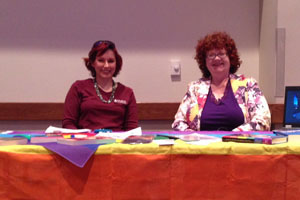 Dr. Medlock (left) and Dr. Stuntz at the Buff Allies Table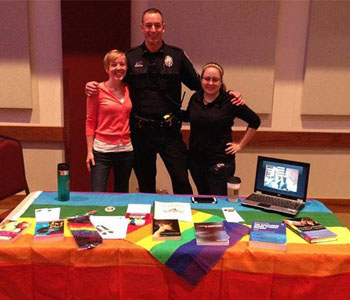 Alice MillerMacPhee (left), Sergeant Nethery (center),
Lana King at the Buff Allies Table
Other Events