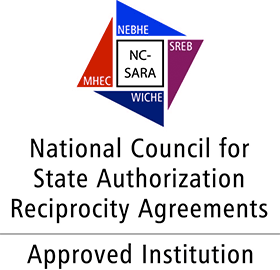 Online Degree Programs
West Texas A&M University offers quality online and hybrid/blended undergraduate, graduate and doctoral programs. Accredited by the Southern Association of Colleges and Schools and nationally recognized, our online programs are flexible and convenient. Several programs offer students the option to attend classes on campus should they want to include a face-to-face experience and engage with faculty and peers. This is a comprehensive list of approved online degree offerings from WT. Individual colleges independently administer and coordinate their online degree programs. Click on the program link below to learn more.
Undergraduate Degrees Graduate Degrees
West Texas A&M University offers a variety of online degree programs with courses in these formats:
100% Online

The entire course and/or program is online. For programs that require a practicum/rotation, as long as students can complete these in their own community, the program is still considered online.

Fully Online (86-99% online)

A program which may have mandatory face-to-face sessions totaling no more than 15 percent of the instructional time. Examples of face-to-face sessions include orientation, laboratory, exam review, or an in-person test.

Hybrid/Blended (51-85% online)

A majority (more than 50 percent but less than 85 percent) of the program occurs when the students and instructor(s) are not in the same place.
Requirements for licensure and/or certification vary from state to state. Our programs prepare students for licensure and/or certification in the State of Texas. We do not represent that our programs prepare students for licensure and/or certification in other states.
The programs listed below are linked to the program webpage for further information.
Undergraduate Degrees
Not all options can be completed online. Contact the Office of General Majors advisor for more information.
This degree assumes completion of an associate of applied science degree at a community college or completion of an appropriate occupational certificate prior to starting work on the B.A.A.S. degree at WTAMU. Included in this credit must be a block transfer of technical-vocational credits, up to a maximum of 48 hours. Additionally, hours of academic credit may be transferred along with the block.
This program is:
The Department of Communication is accredited by the American Communication Association. As seniors, students create a website which showcases the projects and research completed during their time at WTAMU.
This program is:
The Information Systems professional must examine the ever-changing role of information, systems and organizational processes. Their work includes building and developing information systems (e.g., through analysis, design, development, maintenance, etc.) that are capable meeting the demands and the challenges in today's global economy.
This program is:
Earning a degree in criminal justice can help you get hired for many different job opportunities within the criminal justice field. While police officers make up a large portion of the professionals working in law enforcement, there are many more career options that you may want to consider in the law enforcement field. With the wide range of roles available, you can find a job that is a good fit for your unique interests, skills and talents.
This program is:
A degree in economics can provide you with the knowledge necessary to view and describe society and organizations from an analytical perspective. Economics combines the foundation knowledge from business with the social sciences in an effort to understand human behavior not only by using psychology and sociology, but also by studying society through mathematics, statistics, and historical analyses.
This program is:
The Emergency Management Administration (EMA) program is geared to prepare our students for advanced levels of administration and management within the emergency services professions.
This program is:
Business majors who study finance will focus on mathematics, statistical analysis, technology, and ethics. Finance requires the development and use of critical thinking and problem solving skills.
This program is::
The General Business undergraduate degree provides a solid understanding of the fundamental areas in business: finance, accounting, management, marketing, economics, business law and computer information systems. The curriculum is designed to prepare students for the diverse environment of the business world.
This program is:
For the B.G.S. degree, the student must complete, in addition to the WTAMU core curriculum, a minimum of 78 hours of electives, including at least 39 advanced hours earned at WTAMU (grade of "C" or better in advanced hours). Some advanced course work is available online. In addition, at least 30 of the final 36 hours counted toward a degree must be earned at WTAMU. Minors are not permitted with the B.G.S. degree.
This program is:
Healthcare is a growing industry with many employment opportunities. With our Health Sciences Degree you will gain a broad understanding of human anatomy, medical terminology, healthcare delivery systems, and ethics, as well as skills that can teach you to utilize communication and teamwork in your field.
This program is:
Management is the organizational process that includes strategic planning, setting objectives, managing resources, deploying the human and financial assets needed to achieve objectives, and measuring results. Management majors gain the flexibility to apply their skills in a variety of settings.
This program is:
Advertising, marketing, promotions, public relations, and sales managers coordinate their companies' market research, marketing strategy, sales, advertising, promotion, pricing, product development, and public relations activities. In small firms, the owner or chief executive officer might assume all advertising, promotions, marketing, sales and public relations responsibilities
This program is:
A profession in nursing focuses on the care of individuals so they may attain, maintain, optimal health and quality of life. This online program offered is specifically a RN to BSN program which is designed for RN's who have an associate's degree in nursing and are looking to pursue their BSN.
This program is:
Graduate Degrees
The Masters of Science in Computer Information Systems and Business Analytics (MS CISBA) program prepares the next generation of computing leaders to meet the challenge of harnessing and analyzing data to enhance business decisions and achieve business success in today's technology-centric business environment.
This program is:
The Counseling program is designed to prepare ethical, culturally competent counselors to provide professional counseling services in various clinical settings.
This program is:
Reading Specialist Option - Texas certification only. Practicum must be completed in Texas.
With a Degree in Curriculum and Instruction you can expect to research, develop, and implement curriculum changes that increase student achievement within and outside schools. This field focuses on the science of learning and the most effective methods to incorporate in education.
For students completing the Reading Specialist Option this program is:
Texas Certification Only - Practicum must completed in Texas.
The Educational Diagnostician Program at West Texas A&M University has been designed to emphasize the professional standards for Diagnostic Specialists recognized by the Council for Exceptional Children with emphasis in assessment, research-based practices and interventions. All classes are online and easily accessible for students across the United States.
For students seeking Texas Certification this program is:
Texas Certification Only - Practicum must completed in Texas.
The West Texas A&M University Educational Leadership Program prepares confident, skilled, and reflective leaders of education to pursue excellence and make powerful and lasting impacts in their communities. This program's degree and certification options include the Master of Education (M.Ed.) degree, Texas principal certification, and Texas superintendent certification.
For students seeking Texas Certification this program is:
Increasingly, today's engineers are expected to have interdisciplinary knowledge of all facets of engineering. The Master's of Science in Engineering program is designed to prepare engineers for anything they'll see in their career — even if it's not the specialty they studied in undergraduate courses. In this program, students gain working knowledge of many engineering disciplines, from mechanical to civil, environmental to electrical, while also having the flexibility to concentrate in a specific area. This degree provides a rare opportunity to expand skills into all facets of engineering while augmenting skills in a chosen specialization.
This program is:
A Nurse Practitioner is a registered nurse with advanced education who is able to assess, diagnoses (nursing and medical), manage (including prescribing), and evaluate care for persons who are ill, injured, and / or have chronic diseases. Health promotion and disease prevention are integral in the FNP's practice. The FNP practices independently and autonomously within the nurse practitioner's scope of practice, and collaboratively with physicians and other health care providers.
This program is:
The Paul and Virginia Engler College of Business at West Texas A&M University offers a Master of Science in Finance and Economics (MSFE).­ The MSFE graduate program was ranked #2 in The Financial Engineer's 2018 Financial Economics Rankings of economics and finance graduate programs.­
This program is:
No matter what career you have or seek, every employer hopes for high-level skills with business productivity software. They want you to be able to support business decisions with data stored in a database like Microsoft Access and analyzed at a sophisticated level with a spreadsheet like Microsoft Excel. They want you to present that data in attention-grabbing interactive presentations using tools like Microsoft PowerPoint, Adobe Captivate, InDesign, Animate, and Premiere.
This program is:
Emphasis Areas: Computer Information Systems, General Business, Health Care Management, Management, and Marketing
The MBA program at West Texas A&M University offers a variety of options for students seeking a professional business degree from a program with AACSB accreditation. Students in the MBA program have the option to major in management, marketing, health care administration, and computer information systems (students interested in accounting should consider the MPA program, while those interested in an economics or finance are encouraged to consider the MSFE program).
This program is:
This program is:
An undergraduate degree in mathematics equivalent to the bachelor's degree requirements in mathematics at WTAMU is required.
This program is:
The online Comprehensive M.S.N. program prepares students to function at an advanced nursing practice level in complex environments. This program allows students to tailor their nursing education with a variety of elective courses. Students will take the advanced clinical nursing courses of Pathophysiology, Pharmacotherapeutics, and Advanced Assessment to enhance clinical practice at an advanced level. Praxis coursework is personalized to address each student's specific learning objectives.
This program is:
The School Counseling Program is designed to prepare counselors to promote the academic, career, and personal/social development of school-aged youth in the context of a comprehensive developmental school counseling program. Further, our goal is to prepare ethical, culturally competent school counselors who address individual and systemic barriers to educational achievement and personal development. Students are prepared to work professionally with children from kindergarten through high school.
This program is:
The Department of Sports and Exercise Sciences graduate program offers a Master of Science degree with specific tracks in Exercise Science and Sport Management. The Sport Management track is transition to an fully online program. The thesis and non-thesis option is available in each track. These programs provide students academic preparation for goals ranging from career employment to doctoral studies. Areas of focus available include sport administration, sport management , sport performance analysis, corporate fitness and wellness, and physiological testing and prescription. Each track includes a required department four course core, and track specific required coursework.
This program is:
Texas certification only - practicum must be completed in Texas.
The Master of Arts in Teaching (MAT) is designed for individuals who wish to achieve initial Texas teacher certification while pursuing a graduate degree.
This program is:
100% Online
Fully Online (86-99%)
Doctoral Degrees
Educational leaders have unique challenges that require a commitment to continuous student improvement through building and understanding culture, using educational systems, defining learning, and cultivating shared leadership. This is a fully online program with possible immersion experiences each long semester. The program's unique focus through rural school preparation equips leaders with a wide variety of tools to lead and ensures the replication of these skills in any organization, of any size, and in any location.
This program is: