Campus Improvements
For several years the beep, beep, beep of a sky-scraping crane, the buzz of a saw and the metal clang of a hammer were drowning out the sounds of University life at West Texas A&M as construction took center stage in projects designed to change the campus landscape. But the beeps, buzzing and clangs are finally gone, replaced once again by a backdrop of birds chirping and tower bells ringing as students mingle amid the beauty of a revitalized WTAMU.
The completed projects will surprise those who haven't ever been to WTAMU or at least visited the campus in the past several years. More than $66 million in new construction, renovations and campus beautification over the past 10-15 years has transformed the WTAMU landscape with everything from new entrance signs and residence halls to a renovated Jack B. Kelley Student Center and a new multi-field athletic facility. Add in the beauty of carefully manicured lawns, colorful flowerbeds and stately trees, and it explains why Newsweek and The Daily Beast rank WTAMU as one of the most beautiful colleges in the United States.
Here are some of the improvements currently happening at WTAMU.
Founders Hall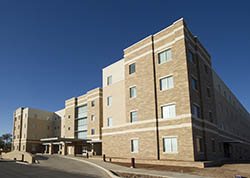 Founders Hall is nearing completion and when its doors are fully open it will house up to 400 new residents. It will be WTAMU's largest and most state-of-the-art residence hall to-date. A place to grow, learn, and make friends. Home away from home. A community designed to enhance your campus living experience! Apply now!
Victory Circle
---
The completion of the University's west entrance marks the latest change to the WTAMU campus. Construction crews have been working for months on a landscaped divider down the road leading into campus from the west entrance. They also are creating a new home for the Eternal Flame in a roundabout at the intersection of University and Victory. The Eternal Flame, a common symbol for the University, was constructed in 1966 by the WTAMU Alumni Association to represent the burning desire and quest for knowledge. It's often seen depicted on the University logo and seal, and its new location will be a fitting home for this time-honored symbol.