Past Seasons in the WTAMU
Theatre Program
2011-2012 Season
---
"The Children's Hour"
By Lillian Hellman
Directed by Stephen Crandall
Oct. 6 - 8, 12 - 15, 2011
Happy State Bank Theatre
---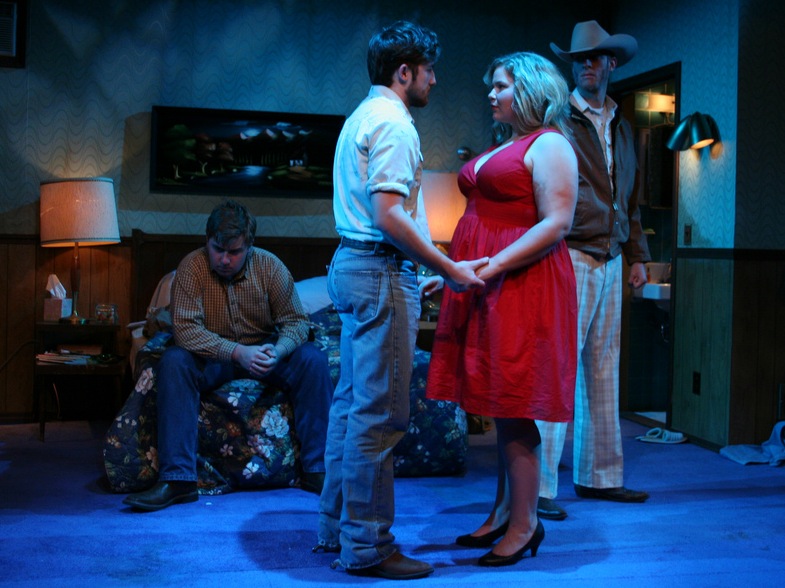 "Fool for Love"
By Sam Shepard
Directed by Cassidy McQuiston
Oct. 26 - 29, 2011
FAC Rm. 175
---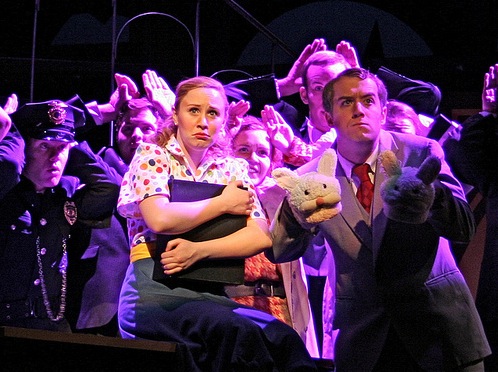 "Urinetown"
By Hollman and Kotis
Directed by Royal Brantley
November 10 - 12, 16 - 19, 2011
Branding Iron Theatre
---
"A Midsummer Night's Dream"
By William Shakespeare
Directed by Stephen Crandall
February. 9 - 11, 15 - 18, 2012
Branding Iron Theatre
---
"Alexander and the Terrible, Horrible, No Good, Very Bad Day"
By Judith Viorst
Directed by Rebecca Graves
March 7 and 8, 2012
Branding Iron Theatre
---
"Our Country's Good"
by Timberlake Wertenbaker
Directed by Royal Brantley
April 19 - 21, 25 - 28, 2012
Happy State Bank Studio Theatre
---
2010-2011 Season
"A Doll's House"
By Henrik Ibsen
A participating production in the Kennedy Center/American College Theatre Festival
Directed by Royal R. Brantley

Sept. 30 - Oct. 2; Oct. 6 - 9, 2010
Performances begin at 7:30 p.m.
Branding Iron Theatre

Branding Iron Theatre Hall of Fame Induction


Saturday, October 2 at 4:00 p.m.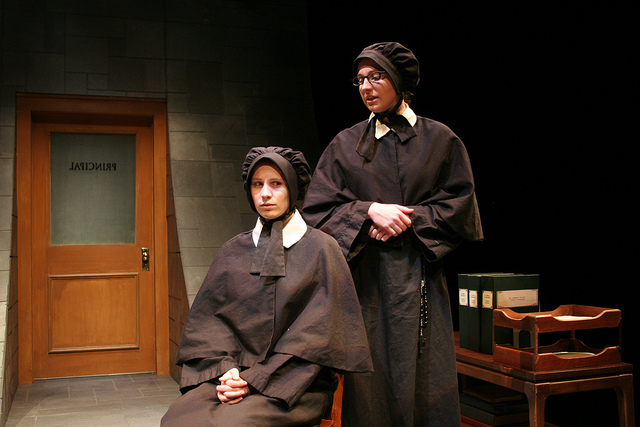 "Doubt"
By John Patrick Shanley
Directed by Kate Felkins

October. 21 - 23, 27 - 30, 2010
Performances begin at 7:30 p.m.
Happy State Bank Studio Theatre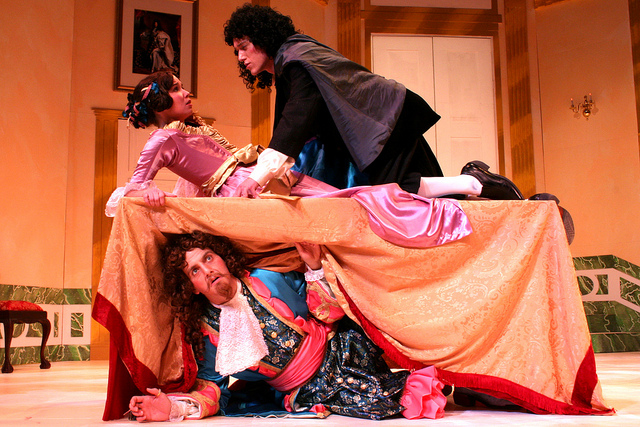 "Tartuffe"
By Moliere

November. 11 - 13, 17 - 20, 2010
Performances begin at 7:30 p.m.
Branding Iron Theatre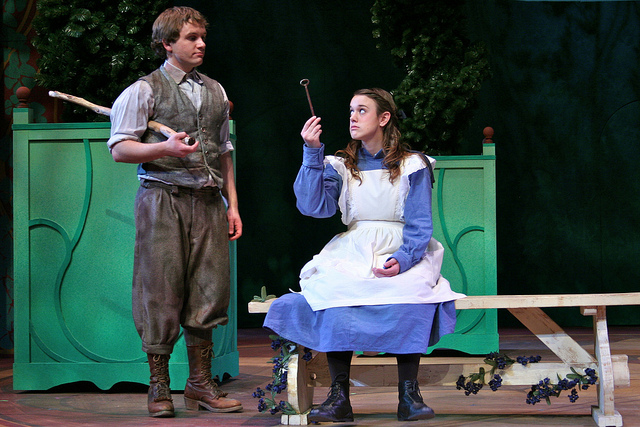 "The Secret Garden"
Book and Lyrics by Marsha Norman, Music by Lucy Simons
Directed by Royal R. Brantley
Musical Director, Dr. Robert Hansen
Choreogrpaher, Leslie Meek

February 3 - 5, 9 - 12, 2011
Performances begin at 7:30 p.m.
Branding Iron Theatre
"Lilly's Purple Plastic Purse"
by Kevin Henke
Adapted by Kevin Kling
Directed by Kirk Corley

School Perfomaces March 9 - 10, 2011
Public Performance March 10, 2011
Branding Iron Theatre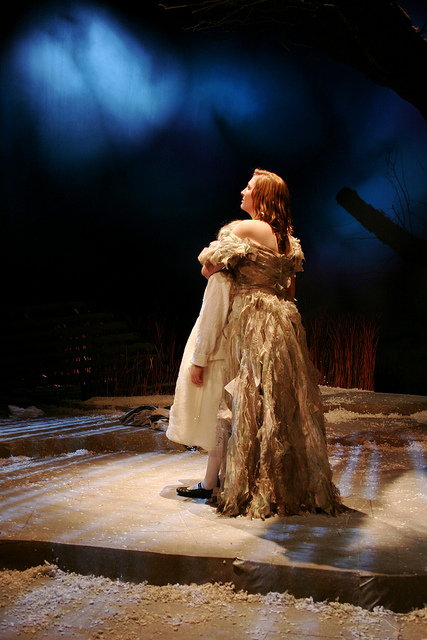 "By the Bog of Cats"
by Marina Carr

April 7 -9, 13 - 16, 2011
Performances begin at 7:30 p.m.
Happy State Bank Studio Theatre
---
2009-2010 Season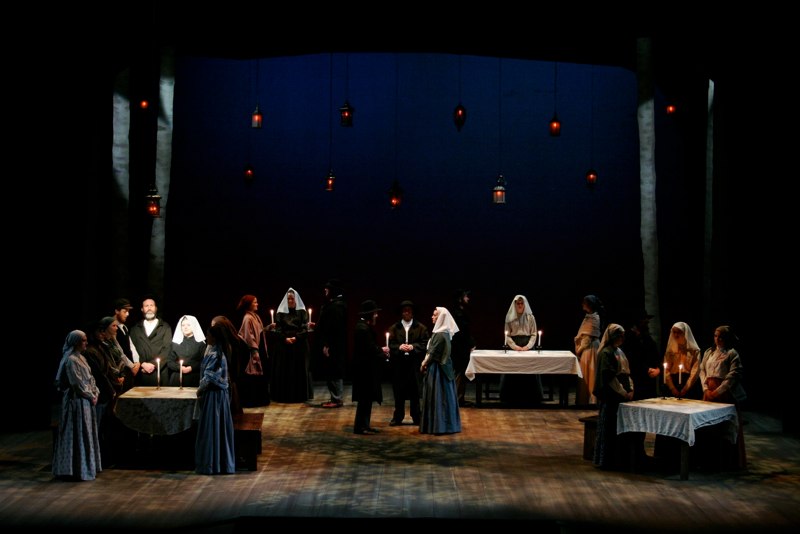 "Fiddler on the Roof"
By Stein, Bock, & Harnick
---
"Sight Unseen"

by Donald Margulies
---
"Twelfth Night"

By William Shakespeare
---
"The Resistible Rise of Arturo Ui"

by Bertolt Brecht
---
2008-2009 Season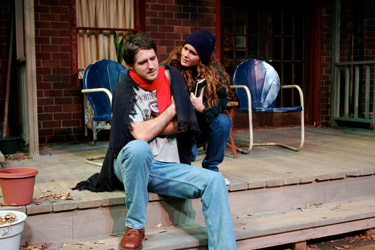 "Proof"
By David Auburn
Directed by WTAMU theatre student, Nathan Miles
Sept. 25- 27; Oct. 1-4, 2008
Happy State Bank Studio Theatre
Following the death of her father, a famous mathematician, Catherine now attempts to make sense of her father's genius in the vast contents of the notebooks he left behind. Enter an estranged sister, a former student of her fathers, and her father himself, Catherine's 25th birthday presents her with unexpected relationships and unwanted discoveries. This production is rated PG for adult content and mild language.
---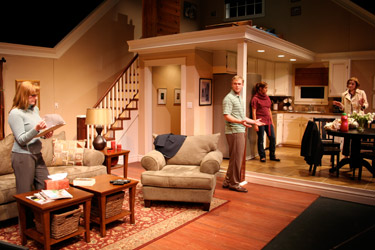 "Rabbit Hole"
By David Lindsay-Abaire
Directed by Wm. Perry Crafton
Oct. 9-11, 15-18, 2008
Branding Iron Theatre
Howie and Becca Corbett are the seemingly ideal American couple, until a car accident takes the life of their son. Now, as they struggle to cope with this tragedy, they find themselves drifting apart as they grieve in different ways and seek comfort by different means. Winner of the 2006 Pulitzer Prize for Drama and the WTAMU entry in the Kennedy Center/American College Theatre Festival, "Rabbit Hole" takes an honest look at the quest for survival amidst the day-to-day aches of bereavement.
This production is rated PG-13 for adult content and strong language.
---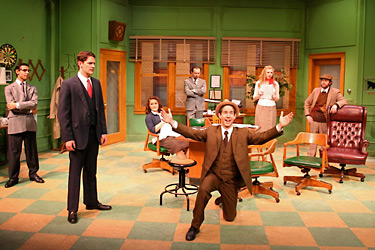 "Laughter on the 23rd Floor"
By Neil Simon
Directed by Marisa Merritt
Nov. 6-8, 12-15, 2008
Happy State Bank Studio Theatre
An homage to the early days of show business and a memoir of Simon's work writing for "Sid Caesar's Your Show of Show's," this is one of Simon's funniest comedies of his career. The ongoing struggle writers face when contending with television executives is the center of this story that is fueled with a barrage of one-liners and joke-toppers. This is Neil Simon at his finest.
---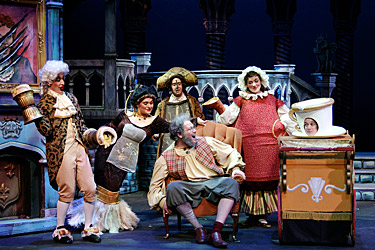 Disney's "Beauty and the Beast"
With music by Alan Menken, lyrics by Howard Ashman and Tim Rice and book by Linda Woolverton
Directed by Wm. Perry Crafton
Musical direction by Dr. Robert Hansen
Choreography by Leslie E. Williams
Feb. 5-7, 11-14, 2009
Branding Iron Theatre
One of the most popular and beloved Disney animated features is now a live-theatrical event! The Branding Iron Theatre is very pleased to stage this must-see musical centered around one of the most timeless romantic fairy tales ever crafted. Featuring "Gaston," "Be Our Guest" and the Oscar-winning "Beauty and the Beast," this show promises to please audiences of all ages.
---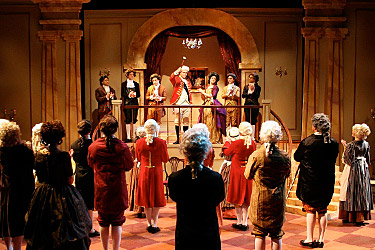 "The Madness of George III"
by Alan Bennett
Directed by Royal R. Brantley
April 16-18, 22-25, 2009
Happy State Bank Studio Theatre
Based off Charles Trench's "The Royal Malady," "Madness" investigates the unpredictable behavior of King George III of England and dramatizes the political struggle that surrounded his supposed insanity. Inspirational, humorous and unpredictable, "Madness" promises an evening of English refinement, intense drama and mad-mad-mad comedy. Hold onto your crowns, it's going to be a bumpy night!
---
2007-2008 Season
The Cocktail Hour
by A.R. Gurney
Cabaret
by John Kander, Fred Ebb, Joe Masteroff
Julius Ceasar
by William Shakespeare
Tape
by Stephen Belber
Unexpected Tenderness
by Israel Horovitz
---
2006-2007 Season
Marfa Lights (World Premiere)
by Octovio Solis
Lend Me A Tenor
by Ken Luddwig
The Marriage of Bette and Boo
by Christopher Durang
Nunsense
by Dan Gorrin
---
2005-2006 Season

Gypsy
Arthur Laurents, Stephen Sondheim, Jule Styne

The Maiden's Prayer
by Nicky Silver

The Skin of Our Teeth
by Thornton Wilder

Echoes
by N. Richard Nash

Art
by Yasmina Reza

Black Snow
by Mikhail Bulgakov
(the last production in the Old Fine Arts Building/Branding Iron Theatre)
---
2004-2005 Season
The Old Boy
by A.R.Gurney
The Hypochondriac
by Molière
The Two Gentlemen of Verona
by William Shakespeare
A Farewell Salute to The Branding Iron Theatre
---
2003-2004 Season

A Streetcar Named Desire
by Tennessee Williams

On the Verge
by Eric Overmyer

Schoolhouse Rock Live
by Book by Scott Ferguson, Kyle Hall, George Keating
Music and Lyrics by Lynn Ahrens, Bob Dorough, Dave Frishberg, Kathy Mandry, George Newall, Ton Yohe

Six Characters In Search of an Author
by Luigi Pirandello
---
2002-2003 Season
A Clearing In The Woods
by Arthur Laurents
Henry V
by William Shakespeare
The Laramie Project
by Moisés Kaufman, Leigh Fondakowski, Tectonic Theatre Project
Company
Music by Stephen Sondheim, Book by George Furth.
A Different Moon
by Ara Watson
---
2001-2002 Season
One Flew Over the Cuckoo's Nest
by Dale Wasserman
The Trojan Women
by Euripides
She Loves Me
by Joe Masteroff, Jerry Bock, and Sheldon Harmick
Prelude to a Kiss
by Craig Lucas
---
2000-2001 Season
The Birthday Party
by Harold Pinter
A Midsummer Night's Dream
by William Shakespeare
Godspell
by Stephen Schwartz
Our Town
by Thornton Wilder
---
1999-2000 Season
Getting Out
by Marsha Norman
The Desk Set
by William Marchant
American Story
by Laurel Vartabedian & Bill Evans
Successful Strategies
by Marivaux
---
1998-1999 Season
Blood Wedding
by Federico Garcia Lorca
A View From The Bridge
by Arthur Miller
Into the Woods
Muisic and Lyrics by Stephen Sondheim, Book by James Lapine
Marvin's Room
by Scott McPherson
---
1997-1998 Season
The Heidi Chronicles
by Wendy Wasserstein
The Trial
by M.P. Schnitzer
Tom Jones
by David Rogers
Guys and Dolls
by Music and Lyrics by Frank Loesser, Book by Jo Swerling and Abe Burrows
The Deviners
by James Leonard
---
1996-1997 Season
The Homage That Follows
by Mark Medoff
The Miser
by David Chambers
South Pacific
by Rodgers and Hammerstein
Taming of the Shrew
by William Shakespeare
---
1995-1996 Season
Amadeus
by Peter Shaffer
Noises Off
by Michael Frayn
Little Shop of Horrors
Book and Lyriics by Howard Ashman, Music by Alan Menken
Much Ado About Nothing
by William Shakespeare
---
1994-1995 Season
The Good Doctor
by Neil Simon
Gianni Schicchi & Suor Angelica
by Puccini
Fortinbras
by Lee Blessing
Barnum
Music by Cy Coleman, Lyrics by Michael Sstewart, Book by Mark Bramble
Our Country's Good
by Temberlake Wertenbaker
---
1993-1994 Season
Mame
Music by Jerry Herman, Book by Jerome Lawrence & Robert E. Lee, Lyrics by Jerry Herman
The Miracle Worker
by William Gibson
The Dining Room
by A. R. Gurney
The Crucible, an opera in 4 acts
Music by Robert Ward. Libretto by Bernard Stambler
---
1992-1993 Season
Follies
Music and Lyrics by Stephen Sondheim, Book by James Goldman
The Grapes of Wrath
by Frank Galati from the novel by John Stienbeck
An Evening of Commedia
Based on the scenarios of Flaminio Scala
Cosi fan tutte
by Wolfgang Amadeus Mozart
---